Wingbeat Wardrum
Someday this pain will be useful to you
"For fucks sake"
the warrior huffed, wings flaring in a booming
SWOOSH
as he kicked a bone at full force across the dry expanse of the Nord Prairie.
"Where the fuck do these savages live?"
he continued to grunt, standing with his gaze cast at the nothingness ahead. The Mokosh trio had set off a number of days prior form their homeland in search of the Icarus and their elusive leader Pyrrha. Maxence had beheld her painted hide and volcanic gaze once before and it had stayed within his mind since — perhaps he hated her already, or perhaps he was slightly smitten with the battle maiden — it was hard to tell.
His design forthis mission to the desert had been to seek the desert woman and either make war or peace. Dirtharest had forever been an enemy of Grimnodas, in fact Maxence could not recall to this day what had started the list of wars and atrocities committed by both realms, but he remained convinced that the spear-hurling, desert-hiding, archaic dirthens were responsible for the worst of them. 
Dirtharest was also in istelf a wild and completely untamed land. The Vagabonds likely took advantage of the disorder and chaos around each rock, twig and tumbleweed right down to the veins and heartbeat of this desert. Maxence's hatred sensed corruption and heinousness with each step toward the vale, it's greenery eventually coming into view.
"Oizys—"
Maxence uttered softly, his pace coming to a halt where the dry prairie grass turned verdant.
"—You're with me. Levi, scout ahead."
.
They were close. He could almost feel their spear tips pointed at him.
---
@
Pyrrha
Maxence has come to annoy Pyrrha!
All Icarus welcome but please wait for Ozzy and Levi to post!
@
Oizys
@
Leviathan
---
MERCY PREVAIL
OVER MY WRATH
Permission to use magic & minimal power play on Maxence.
LEVIATHAN
WARRIOR IN BLACK
The words ( and the restless wings ) echoed over the dry lands, and Leviathan was forcibly reminded of Solterra as he stares ahead with their steps, biting back laughter that is not humorous in the slightest.
"You act like we've never been in conditions like this before,"
came his drawl at last, hooves hitting heavy as they continue forward.
It's hot, that much is obvious, and sweat dots his flanks, darkening already dark fur, and he blinks before flicking an ear as the horizon begins to peel back and reveal spots of green.
"You know, if I had to live here, I'm pretty sure I'd be in the place that's covered in green."
A brow arches and he tips his head before coming to a halt, the last bits of dried out grass crunching under his hooves when Maxence stops.
The Commander rolls his shoulders at the words, his thick neck arching before his head moves, and bones move and crack, releasing built up gas between the joints. Muscles are already taut as it is from the journey, but his nature of being laid back during most of this trip seems to melt away, replaced with the stalwart warrior that he is as he steps forward and picks up the pace.
Jokes fall away, and he's on alert as his head lifts. At his massive height, he's likely to see anyone coming, and can be between them and Maxence, which is the point. Still, he's here to look for the Icarus herd, and their leader. Max had only said her name, Levi hadn't even seen her, so to him, she's an enigma, looming on the edges of his thought like some sort of being made from dust and sand.
@
Maxence
@
Oizys
||
Hot. Hot hot hot hot hot. Oizys is sweating like an amorous colt seeing an in-heat mare for the first time; if she'd thought Mokosh was bad, this is something else entirely. Only her steadfast determination not to lose face in front of her King and Commander stops her from collapsing in a sticky heap on the sand and refusing to move. Why would anybody optionally choose to live here? It reminds her of the Dragon's Throat (or the Dragon's Sweaty Asscrack, as she'd so eloquently re-named it) in Helovia with its vast choking expanse of desert and dusty, suffocating heat. Give her the northern snow and ice any day of the week.


She remains largely quiet throughout the journey, speaking only when spoken to, which is quite unlike her - she's usually the life and soul of the party. It is the combination of the heat, and feeling like something of a third wheel alongside these two old friends. Leviathan and Maxence are obviously well-acquainted, and far be it from her to interrupt such a bromance. Their interactions are quite interesting to watch, because in Oizys' experience, stallions don't tend to get along, especially muscular, handsome ones in their prime like the two alongside her. She wonders if they would act differently if she was a pretty, delicate strip of a mare who could give a chase-me-fuck-me flutter of her eyelids and make even the most genteel male want to move heaven and earth to gain access to her forbidden fruit; as it is, she's a brutish, hideously scarred and masculine creature with about as much sex appeal as a black widow spider. Certainly not worth fighting over.


Maxence commands her to remain with him whilst Leviathan moves ahead. The other warrior's tensed posture causes Oizys to mimic him, stiffening her muscles and narrowing her eyes in preparation for any conflict that may arise. "Are you expecting trouble?" she murmurs to her Warden, her leonine tail twitching idly behind her. She knows nothing of the historical conflict that she's entering into, only that she must be willing to defend her King to the death if need be.



NO WEALTH, NO LAND, NO SILVER, NO GOLD
NOTHING SATISFIES ME BUT YOUR SOUL
---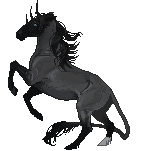 PERMISSION FOR USE OF MAGIC & MINOR POWERPLAY ON OIZYS
(This post was last modified: 11-12-2018, 07:04 PM by Oizys.)
'Caveo.'

She might have heard, if she could understand the clack of beaks and the shrill screaming from high above,

'hic venit ad aquilonem.'

 

Their high alarm splits the stifling, still Vesper air into a million little pieces ‒ like the cracking of stone, or bone. Each nook and crevice ‒ each flat, hard pane of sandstone; each leaning, fractured column of marble ‒ takes up the song, thrumming and beating like a warpath until it finds her. Standing amongst the twisted, gnarled ancient bodies of fruit trees in the Grove, their knotted skin pressed against her own taut body. Their leafy fingers offer scant sun protection; their clasped and hooked arms growing heavy with fat figs and olives. The nestled presence of the divine offering peace. 

The Southern Warden lifts her painted, antlered head, ears pricking and pinning back against her poll.

"Quis est?"

she hisses back. 

The divine trees whisper ‒

'ad aquilonem'

‒ in a tongue too old and primal to understand. 

"Intrusus."

She remembers him, too. But only in passing; 

A shade among shades in a formless, lifeless, anemic mass. It is not that she abhors the North entire ‒ she imagines there is a place as far North as she is South, that hangs in the balance. That holds onto the edge of the world by the cut of a knife, the will of the Gods and the help of the Totems. 

It is the in-between. The soft underbelly that exposes itself to the teeth most freely.

Morthalion.

Where a King sits in a hollow hall of mewling, pale sycophants. Where the crowds whisper of court gossip and samite cloaks and waits for the menace to pass. For the battlefields to flood with the blood of poorer paragon's children if need be.

Of course, there will always be the armed and armored men and that collided with her father and uncles in war ‒ that spilled blood that would run the rivers of Nordlys for generations, Above and Below Morthalion. The ones that loom, still, like a watchful pair of eyes at East- and Westwatch.

Yes. She remembers him. But she could not have said from where he hailed; of what measure and means his character might have been made of ‒ from how far beyond the in-between he belonged. For in that chaotic, crowded, moment, she had thought only of taking what was Theirs ‒ that colourful, magnetic blade ‒ and returning Home.

"STABIT!"

her voice rings out across the arid, open passage that leads down into the Vale's heart. Here, at the mouth, the mountains yawn wide open and she stands, small and steadfast against them. Her neck arches, presenting the pointed tines of her antlers, and then unclenches, tossing her head to the blue Above. Her chest heaves and glistens with sweat, as she presses down on them at a trot, swift and militant. Against her leg, the opaline blade shifts and catches the light of Sun, no longer does it draw blood for her skin has grown thick and protective under the legband.

"Non veni ultra."

She eyes them with wild, hard eyes, green-grey and bright against the flat, black clay paint. A party. Not a drifting passerby, nor a hopeful Icarian-to-be.

It puts her on edge. Coils each sinewy muscle tight, striating and flexing beneath her bronze coat.

Her sharp gaze falls square on Maxence, eyes narrowing at the large, hale pegasus ‒ darting sideways to his guard.

"Vos,"

she barks, nostrils clenching around the bone ornament, dreads falling across her neck and marked shoulders,

"Septentrionali Custode. Quare venisti? Tibi loqui Nordlysian?

"

She waits, every curve and edge of her body achingly expectant.

@

Maxence

@

Leviathan

@

Oizys

| Hover for Common translation!
☼
L
ong summer days spent idling, waiting for purpose and reason beyond the age old warring with the Abbas and the simplicity that youth brings. Though still a babe, Sinnda has matured far beyond her years, wise in the suffering of loss, of hardships most children her age had yet to face. She rose above the difficulties she faced, became greater for it; and yet she did not feel on top of the world, even with the accomplishments under her belt and the strength beneath her striped hide. Conqueror, harbinger of war, beast of bloodlust. She was a king of the battlefield, a force to be reckoned with, inheriting all the power of a ghost of a sire, a general that was nothing more than a single faded memory in the back of her mind— all fury and glory, yet each thought of him brought nothing but bile to her throat, acidic and bitter on her tongue.
She spits in the sand, listening to the commoners speak in their hushed whispers, in surprise and awe. The Lion's Daughter knew well of her father's position, of his great feats during his absence. She and her sister did not hesitate to pick up all they could on the lion donned man, and were even more eager to follow blindly in his steps even if his name brought venom to her lips. It was no secret that he was Warden of the North, once again leading a legion of warriors as he had in the past, and it was no surprise to Sinnda. Having spent a fair share of her youth under the teachings of the Matraan, she knows well the needs of men. Power is the first, to be dominate, high above the rest. And that is exactly what her father has found. To be worshiped, admired,
adored.
It's all they ever wanted.
Ebony tipped ears flick forward at her father's name spilling from the lips of hunched paragons, conversing in secret and yet out in the open for all to hear and witness— rumour of the Warden making appearances in the other herds. Shoulders tense, breath hitched. A fire burns within her breast, wild and untamed, threatening to devour and destroy. It is cataclysmic, her rage that has been bottled up for all of her life, flames stoked by her mother's words and fate's actions against her. She has waited her entire life for this moment, and all be damned if she wasn't going to take the opportunity by the balls.
In a flurry of feathers she takes to the skies, racing forward without hesitance and leaving the gossiping Icarians to their own devices. Whether Nahriye was near enough to witness and pursue was not even a thought in her mind. All that she saw and felt was
red,
blaring red and white and
fury;
she was wrath, was the burning embodiment of each woman and child scorned, abandoned by their fathers without goodbye. Sinnda was hellbent, was a natural disaster, a hurricane, a tsunami, the eruption of a volcano— she was an earthquake, splitting the world in two as her anger and hate built in an ultimate climax, as her heart thundered and blood rushed in her ears. She circled the skies once, twice, eyes focused on the red sands beneath her and caring naught for the sweat that beaded her skin as the sun beat down upon her. Even in the Vesper heat that burned the desert sand Sinnda did not discard her Embersaber cloak, keeping it tight to her back even as the perspiration soaked her hide.
And there she spots it, the smallest smudges of life wandering the Dirtharest desert, sticking out like a sore thumb against the warm tones of the sand dunes. She lunges forward, picking up the pace as she follows the newcomers closely, fiery orange eyes tracking the movement of the trio as they step further into Icarian territory. Tilting her head to get a better look, she sees Pyrrha, Warden of the South, approach the group. The tension in the Dirtharest warden was so clear that Sinnda could see and feel it from her legions above, hair on her spine standing straight up as she views the scene carefully. It takes her a moment to recognize, to pick apart the details of each party member, all stripes and brute strength and painted bodies— and she sees it, the lion's grim gaping face tied to the ass of a man she could only believe to be a ghost, and yet hated all the same for his abandonment.
Overwhelmed, a frenzy of negative emotions, of adrenaline rushes and ire. Her mouth hangs open as she dives down, head first towards the surface. A scream pierces the silence of the skies, a war cry that shakes even the bravest of men. She does not need to be an experienced fighter or a magically gifted being to terrify, the tone of her call is daunting and harsh. It is a scream of a thousand generations, wronged by the men in their lives, of women in power and men at their feet, of Amazon women and Valkyries, goddesses and femme deities, all coming together in the screech that erupts from her.
Her wings flare out in perfect timing, coasting forward the final few feet before her hooves hit the ground and she slides through the sand, halting before the man she could not call her father. Careless passing of the antlered woman, and no second glances at the guards of her father, she stares the soldier straight in the eyes, unafraid as her sides heave and she catches her breath. Sinnda snorts, low and harsh as she squares her shoulders and flares her wings, trying to look larger than she is in comparison to her sire. She felt powerful, felt impossibly strong for someone so young, as her white hot fury flooded her veins, blurred her vision and shook her to the core. There was no ounce of fear or indecision in her actions, each motion deliberate and grand, one could almost mistake her for a warrior queen with her stance and the tense air around her. Animalistic and primal fury that consumes her completely, swallowed whole by her hatred.
"

YOU

!"
She snarls, snapping forward and biting the air with sharpened incisors, swallowing the memory of blood and the desire to taste it again, to tear him apart in her childish hands without pause. There was nothing else that mattered to her then, the world holding its breath and at the edge of its seat, waiting to see what more Sinnda would do. Would she lunge? Would she finally live her childhood dreams of finding victory over her deadbeat father? Of seeing the man bleed at her feet, of finally gaining a sense of peace that there was no more confusion or worry over what he truly meant to hear (
nothing
).
HELL HATH NO FURY LIKE A WOMAN SCORNED
sin and i are here to crash the party w this mess of a table
She was not one to be left behind, not in a time like this. Pyrrha could handle herself well, but she would not allow her Warden to go by herself. There was no Commander, no bodyguards, no one that was joining her, it seems.
The wild woman, in all her iron and gold, slips the polearm at her side and moves. Architect was her title, but that didn't mean she wasn't a warrior. She had built much in her life, had clawed her way to the top of things tooth and nail, and had fought every inch of the way. Building came second nature when she was one that dug in the earth for ores and precious things that she could manipulate. Fighting is an instinct that is as natural as breathing to her.
Gold prosthetics kick up grass and dirt as she takes the path Pyrrha had, not too far behind her Warden. She comes up to her, and finds she is not alone. There are others, including a scarred titan and a scarred woman, as well as a winged man that stands before the antlered Warden. The two scarred ones seem to be bodyguards, tense and muscled, with one further up than the others, standing tall and rather intimidating for his size. She only snorts, her polearm shifting at her side as she comes up beside Pyrrha, and becomes aware of what seems to be a flying ball of feathers and fury coming down from the sky.
"What--"
She can't even figure out what's going on. These people are intruders, and it seems Sinnda knows the winged one, and looking close, they seem to look alike. The kirin's ears go back, her horned head lifting a moment, glinting in the heat of the Vesper sun as she watches the now even more tense interaction, feeling her muscles coil and her front legs hum slightly.
This is dangerous, it seems, or rather, right now, it's all tension and nothing will cut it loose. Everyone is wound like springs, and she readies herself just a bit, ears flicking, golden gaze darting toward the young pegasus mare.
"Sinnda."
Flat, low. She has no right to issue a warning, but it's more like an older sister ready to scold her younger sibling for their wild actions.
at everyone tbh. do i have two characters in this thread? yes i do.
What are you, Nahriye?
I am vindictive: violent and ablaze.
The steady thrum of hoofbeats against the sand is all she could remember. It was easier to subject the warring reveries of her memories to their distant oblivion, long-forgotten and left to ash and dust. But they could not be forgotten. They festered there, deep within her, and piled like dry kindling. Whenever the ember sparked, they would light ablaze; Nahriye's soul was on fire, visibly burning beneath her skin. She relinquished such ferocity to the throes of battle, relishing in the freeing feeling of sweat and pain; gasping, wretching, yelling, crying. The wicked wiles of a young girl was nothing compared to the filly and her sister, who'd see armies felled before they'd toil in maidenly fantasies. Let them burn, she remembered saying once, watching stone-cold their enemies fall to ruin where once she might have cried.
For a long time had they enjoyed their anonymity. They were wanderer daughters from the north, chased into the desert bedraggled and half-alive. They'd never had to mention their father, they just had to look like him. Nahriye still yet clung to the ideals that Maxence died along with their mother, that he was only just as much fault as she to abandon his daughters to the whims of caravans and clans. But there'd been nothing else so sickeningly sweet than to realize the man still lived, still breathed, still reaped the benefits of being the crown's devoted dog.
He is everything you want to be. He is everything you can't have. You hate him for it.
Your pitiful heart, eager and hopeful—

Burn. Burn. Burn.
"Sinnda," she breathed along their unsteady march, falling beside her sister's left hip. Her wings flared out behind her, each dredged feather fluttering lightly in the brisk wind. Vesper had plunged their eternal desert into a brisk warmth, searing well past something allowable; however much Nahriye wanted to retreat to the shade, the sisters plunged forward, shouldering their way past windswept sand dunes and sandcats fleeing at their approach. The Icarians about them, steeped in their gossips and sideways stares, could not shake the sisters but their one word: Maxence. The Warden of the North. Sinnda's wings flutter without response, without hesitation, and she ascends to the sky in a fray of dust and ash. Nahriye watched with exasperated suspire, before stretching her wings, and allowing the desert's harsh updraft to launch her into the hot, dry air.
The sky bleeds with anticipation as the liondaughters descend from their ethereal peaks, parting way in the sea of sand to mark their hellish approach. All things ruin and bloodstained history, seeped in their veins is vengeance, like blood. Disregard all else: there he is, standing among them, some beacon of hope and glory and ruination. Seeing him with her own eyes killed Nahriye once more, but she's died a thousand times. Sinnda descends before her—windswept and unfurling in a great tempest. Fevered, raving, sweltering. She is a fire relentlessly craving, and it takes all of Nahriye's strength to match her fire. I am just as angry, she bellows wildly, I am just as fierce.
Her landing is less harsh. Sinnda had given enough of a violent approach that Nahriye could ride the shock of it, flaring her wings outwards, making herself appear larger. She came beside her twin sister, and where Sinnda was an explosive and unkempt rage, Nahriye was strangely calmed. Her animosity flickered beneath her gaze, lighting like fire; her chest heaved with every heavy breath, and she disregarded Adelita's cautious and warning disposition in favor of something far more pleasing. Justice is wreckage and revenge, Nahriye believed, and she knew the Dirthen would understand that better than anyone. The Warden of the North had taken something precious from his daughters. One eye for one eye. The one law of this lawless land. "Behold, the King in the North!—Come here to brandish the blade given to him by that bloated beaked buffoon." she began, coming up beside Sinnnda, pressing beside her sister as if she were the only thing tethering in place, "I hope the wind has not yet snapped your wings in half, pater." There is a crudeness in her tone that is disrespectful and sharp, fully anticipating the repercussions of her outburst, and wanting nothing more than to throw herself into the fray. I am addicted to this fire, can you hear it howling?
@

Maxence

@

Sinnda
NONE • WILL • LOVE • THE • BUTCHER
There is a fire in the air that Iman cannot ignore. It comes first as blackened iron— the weight of her armor so immense that its delivery comes at the claws of three pygmy dragons. Embers flicker through the breeze as she removes the heavy bulk of plate, Atlas relieving himself of the world, and for an ephemeral second Iman feels the change sweeping towards her— a wave of scalding smoke that rushes from the depths of the White Ruins towards the horizon.
Then there is only Pyrrha, her braided hair cascading like a banner behind her.
Iman knows when it is best to merely keep up; questions could be asked later. Sooty legs leap over the pile of plate armor before her and, despite the weight of chainmail still draped over her body, her alacrity remains mirror-like in its comparison to a dagger. Pyrrha races on ahead, but Iman takes a deep breath and plunges to the left, forging a path that takes her around the edges of the herd where dashing through camps will be less disruptive— for Iman takes no heed of others as she gallops towards the entrance to their valley. She scatters children and stallions alike, kicking sand over a cook fire and narrowly clearing a small lean-to as she takes a direct route rather than the least populated.
She enters to the side of the others and the scene already speaks of chaos. Two
children
trumpet and posture, throwing insults as though the arrival of the North's Warden was not a delicate diplomatic affair. Iman's ears are slick against her serpentine neck as fury rises like lava in her— no warning suits as consequence for Nahriye's belligerent behavior. Iman leaves no room for kindness, shoving forcefully towards the half-grown fillies; her countenance grown dark with thunder.
"Tace,"
she snarls at the youths, lashing out with her teeth at their necks and ears. Against their wings and stilt-like legs, Iman shows no fear, pushing into their personal space — and, failing that, bodily shoving at them — in an effort to force them, and the consequences of their churlishness, away from the Mokosh's Warden.
"Et sic comminabitur Icari salutem cum aliquot infantes simul stultitiae peccatum videtur,"
every word a snake's strike, every clipped syllable trembling with fury that these
infants
would put the welfare of their herd at stake for the sake of goading Nordlysians.
If she must enforce order upon them in full-view of visiting dignitaries, so be it. She knows the tone of Nahriye's voice, the ache to feel the heat of war, and Iman
despises it
. Sinnda is almost worse— blinded by bloodlust. Many of the paragons within Icarus are not old enough to have known the War, only the aftershocks, and she cannot impress the massacre upon the youth. They are unwise and the world is unkind; the best she can do is teach them the pain of broken skin. Perhaps then they will learn to understand the value of problems that can be solved with finesse.
There is a time and a place to disrupt the Nordlysian control of Dirtharest; this meeting is fragile, and she will see no spark struck against the tinderbox. Icarus cannot divest resources to a pointless feud, and Dirtharest cannot withstand such ruin.
"Vos concitatus delere vos videbo ante Dirtharest sinam,"
is her promise to the twins. Iman vows, not with fury, but with finality— she has pledged herself to Pyrrha and, while their values align, she will let nothing come between them and their goals.
Even if she must commit the unspeakable.
Even if it costs her.
Even if it
hurts
.
@
Sinnda
@
Nahriye
art by amrit briar
Someday this pain will be useful to you
Leviathan was a funny beast, a rare gem who had the rare gift of cooling Maxence's ire and bringing relent to the perpetual scowl that seemed to most like a permenant part of his countenance, but today was different, and even Leviathan's teases and taunts would be no remedy for the conniving gaze of the Warden. Over each rugged rock and tortured grain of sand his violent sights swept, demanding answers from the landscape at his feet and receiving nought but the scream of wind and pelt of sand betwix his feathers. 
Are you expecting trouble?
The voice drew him back from his searching stare, both eyes turnng with his blackened nose to the War-maiden who stood at his side.
"This is Dirtharest, Oizys."
Maxence spat as his gaze left her own and returned to the wastes ahead, his toiling temper placed once more upon the coals.
"There is nothing but trouble."
Leviathan had been gone minutes - minutes that felt more and more like they had the potential to become tormenting hours. But then
she
stepped forth from the vale, a champion of the Icarus and the sun. 
Pyrrha
. 
Her approach caused the rage within the Warden to bubble and ripple, the muscles under his sweat-stained skin beating like hearts with each movement. Wings a-flare and heart ablaze the Warden of the North faced his southern opposite with a fire-filled ice, his blue gaze filled with flame for the approaching Icarians.
First spoke the painted maiden, the Warden of the South in all her dreadlocked glory, demanding they halt and tresspass no further. It earned a daring snort from Maxence's own nares; a brutish call of distaste with a regal stomp of his foreleg to match. They were not some criminal vagabonds coming to steal treasures and relics; he was a Warden under the employ of King Hessander. The brute paid little attention to the other icarians who gathered, nor the damsel who swooped down elegantly astride the rest.
"Utique."
the pegasus uttered in reply, jaw clenched but demenor cooled.
 "Ego veni ut de re publica Icare. Ego hinc durante bello."
YOU!
Immediately his attention was diverted to the maiden who had landed gracefully from the air, her countenance bearing the same perpetual glower as his own. Maxence beheld her with a fairly harmless level of shock and irritation at her interruption, but it took only a number of seconds for him to realise just exactly
who she was
.
"Sinnda"
He whispered, his glare turning to sorrow as he whispered the same word spoken by another in the group — her name has also come from the lips of a blackened woman, coal coloured and spectacular — another warrioress from the tribe of the icarus. As quickly as his thoughts had ran from him they returned with distractions and a thousand questions, only to be stolen once again by the the thunder clap of his second daughter swooping from the skies.
Maxence stood in silence, in rage, in misery, in
fury
as his daughter snarled with the ferocity of a cheetah and hissed with the venom of a cobra. He could feel each word like poison upon his skin, driving itch and toxicity upon his hide like a burn. Her words had great effect... but he knew that was most definitely her aim.
His mouth opened to speak, to boldly demand this arrogant display be stopped at once, but yet another has joined the fray. The woman was another of great ferocity just like his daughters and she too sang like a cheetah, her first uttering a severe and justified warning, but it was her second snarl that summoned true rage to the heart, mind and soul of the Warden.
The lion within
roared
, his wings parted, and in an almighty storm the pegasus leapt forward to shield his daughters from even looking upon the snake-like woman who threatened their lives for this
complete and utter shit hole
. 
"I will have made DUST of you long before you are close enough to harm a SINGLE hair upon either of their heads.
The father bellowed to the snake.
---
on a scale of 1-10 how shooketh are y'all?
LEVIATHAN
WARRIOR IN BLACK
He's barely been gone for a few moments when he sees them, all of them. Even with one bad eye, he can see the movement in the vale stirring, slithering dark bodies against verdant backdrop, and heavy hooves turn immediately.
"Hey uh, Maxie, pretty sure they know--"
He frowns as he watches the first, and his body is in motion before he can really think on it, heavy muscles rippling as he strode towards the lot of them, ears flicking back and scars stretching and relaxing as limbs move and hooves churn the ground under him. He narrows his eyes, though turns his head just so to see the group of them better, coming upon them rapidly enough to hear the scattering of native tongue (damn their tongue, he needs to learn it), and then the common that speckles in between.
It implodes with more fury than he's ever seen, and even the titan is rather stunned, before he sets in to motion, snorting as his horned head tosses and he shifts, lowering his head and squinting at the two girls that had come snapping and snarling at Max like a couple of rabid cats.
"I can see the resemblance, Max, but uh.. they're still a couple of little chicken sized squirts just yet."
He snorts a little, and he knows he won't be able to diffuse the situation, but he shakes himself, from head to hoof, sending up a cloud of dust and huffing at the tension in the air.
They'd come on a diplomatic mission -- not one of his strengths -- and had instead gotten a pretty impromptu family reunion. Regardless...
"Maxence... "
It was a voice of
'what next'
without asking it. A commander wanting to know if he should ready himself in particular for a fight, thought he somewhat doubts it. His muscles are still coiling tight though, tense, and his bulky body shifts weight just a small bit, resting in a more appropriate stance.
It could be considered relaxed, but rest assured, he's in high alert, and ready.
aljdka leVI PLS
Users browsing this thread: 1 Guest(s)